Fortune Dishwasher Regular Combo Pack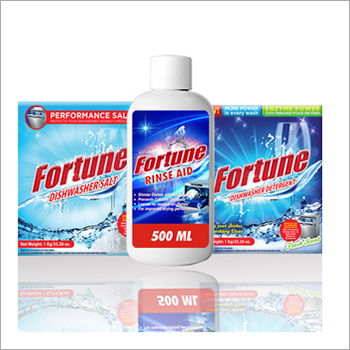 Fortune Dishwasher Regular Combo Pack
Product Description
FORTUNE Regular Combo Pack contains the following
Packing:
3 Unit x 1 Kg Fortune Detergent
3 Unit x 1 Kg Fortune Salt
1 Unit x 500 ml Fortune Rinse Aid
278 in stock
FORTUNE DISHWASHER SALT
By using Fortune Dish Washing Salt, the water can be reliably softened, substantially increasing its cleaning performance. Fortune Dish Washing Salt has a high NaCl content, and dissolves extremely quickly, which are the most important requirements for dishwasher salt. It helps in improving Detergent effectiveness.
Packing: 1 Kg Retail Cardboard Box
Dosage: Under normal conditions the dosage will be 30g Per Wash Cycle
FORTUNE RINSE AID
Fortune RINSE AID is a concentrated liquid rinse agent for use in Automatic Dish Washing Machines. Fortune Rinse Aid reduces rinse water surface tension and thus promotes rapid spot and streak drying of dishes, trays and utensils. It prevents calcium deposits and helps in removing residue of unnecessary chemicals from your dishes.
Packing: 500 ml PET Bottle
Dosage: Under normal conditions the dosage will be 5 ml Per Wash Cycle
Packing: Regular Combo Pack (3 Unit x 1 Kg Fortune Detergent, 3 Unit x 1 Kg Fortune Salt, 1 Unit x 500 ml Fortune Rinse Aid)
Weight: 7.5 kg
Contact Us
123, DSIDC Complex, Okhla Industrial Area, Phase I, New Delhi, Delhi, 110020, India
Phone :+918045803352